Be poised to start hardening off your potted tomato plants… but do so with caution, a nasty frost can catch you out. Runner beans need planting into pots in the greenhouse. Your early potatoes should be going into the ground NOW!!! Carrots will start to germinate very soon with the current day temperatures, the soil is rapidly warming up to aid germination. Expect your Rhubarb to start firing on all cylinders!
On the animal front, if you have pigs, make sure that you are providing your pigs with somewhere to wallow. Although the sun is not that hot for us humans, the pigs will already be wanting to cool themselves off. To add to this, the mud they will roll in, actually acts as sun barrier! trust me, you wont want to be dealing with a sun burnt pig…
You have probably finished lambing by now. As it is unusually hot for this time of year, pay attention to the possibility of Blow Fly Strike! For those of you that are not familiar with this, a fly will be attracted to the smell and sweaty residue from birth around the ewes behind. The fly will then lay eggs on the fleece. They hatch into tiny maggots. The maggots then actually eat away the skin, in serious cases causing death!!! As a precaution, you can spray the sheep with a product called  (crovect) this product is a deterrent and cure for such a situation.
I am afraid the welcome heat does have its consequences, those of you with poultry. Have a sharp eye for the pesky Red Mite. Now the hen accommodation is warming up, the mites will be close to breeding. Do a little research into the products that are on the market to combat the problem. Look at a preventative product…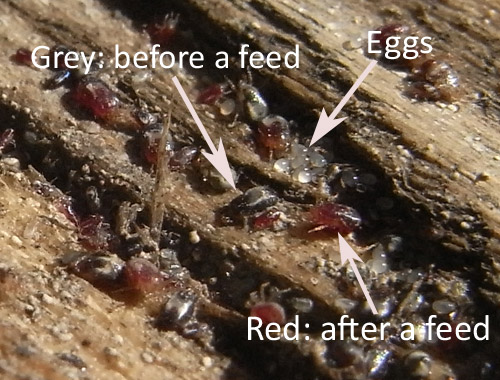 I hope this helps… see you again soon.